By Mick Woodcock
Whether Gustav Barth, Jr. actually had nine lives we don't know. However, during his time in Prescott as a railroad man, he experienced several accidents that indicated he was in a dangerous occupation, constantly exposed to situations that could cut his life short or alter it drastically.
Prescott's newspaper, the Arizona Weekly Journal-Miner, noted in its February 7, 1894 issue that, "Gus Barth, a railroad man from Santa Fe, New Mexico, arrived here yesterday, for a visit to his sister, Mrs. W. S. Goldsworthy. He may remain here permanently." Mrs. Goldsworthy's husband was the local ticket agent for the new railroad being built through central Arizona – the Santa Fe, Prescott and Phoenix.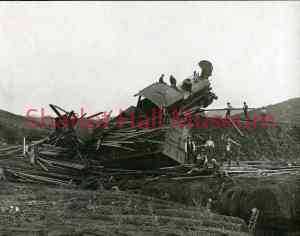 Within a week, the newspaper announced that Gus would be the fireman on the Number 2 engine, assisting James Gray the engineer. At that time, the railroad was building the line south to Phoenix and had four engines. Numbers 1 and 2 ran from Prescott to Ash Fork and back, Number 3 went to where track was being laid and Number 4 worked in the yard.
No further mention of Gus is made in the newspaper until the September 2, 1896 edition, which announced his marriage and indicated he was a former employee of the Santa Fe, Prescott and Phoenix. The information was from the August 19 Medford, Oklahoma Star. Gus had taken a job constructing a new railroad in Georgia and used that opportunity to take a wife.
It might be expected this would be the last word on Gus Barth, but he reappears in the August 17, 1898 Prescott newspaper with the headline "A Terrific Explosion." Gus was in the roundhouse when the Number 2 engine boiler exploded, killing two men and injuring two others, one of them Gus. He had been hit in the back by flying debris, and although initially reported as uninjured, he was unable to get around for several weeks afterward.
By July 1899, Gus was the engineer on the Number 8 engine. Number 8 had collided with Number 2 earlier in the year but was examined and repairs made. Unfortunately, the inspectors missed a break in a journal box (a part of the axle which housed the oil for the axle and journal bearings), causing a near mishap in November. As Barth drove Number 8 near Kirkland, pulling a southbound freight train, the broken journal gave way, causing one of the drive wheels to fall off. The train was moving slowly and Gus was able to stop without going off the rails.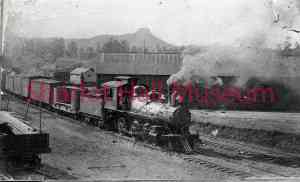 On an August night in 1901, Gus and his fireman were injured in a wreck that claimed the freight cars they were hauling from Ash Fork to Prescott. South of Granite Dells, they attempted to cross a bridge that was being damaged by a flash flood coming downstream. As the train crept on to the trestle it gave way, leaving the locomotive precariously perched on the far side embankment and the caboose hanging on the end of the track on the other side. Although not seriously injured, Gus was off work for a while.
Gus' final accident in this area occurred as he drove a freight train south on a night in August 1903. While no reason was given for the derailment, several cars left the tracks and the rear wheels of the tender were off the tracks.
Gus Barth left the Santa Fe, Prescott and Phoenix for good a month later when he traded jobs with W. T. Delano, an engineer for the Atchison, Topeka and Santa Fe Railway who was moving his family to Phoenix for his wife's health. Gus moved to Newton, Kansas where he hopefully finished his career with no more accidents.
"Days Past" is a collaborative project of the Sharlot Hall Museum and the Prescott Corral of Westerners International (www.prescottcorral.org). This and other Days Past articles are also available at archives.sharlothallmuseum.org/articles/days-past-articles/1. The public is encouraged to submit proposed articles and inquiries to dayspast@sharlothallmuseum.org. Please contact SHM Research Center reference desk at 928-445-3122 Ext. 2, or via email at archivesrequest@sharlothallmuseum.org for information or assistance with photo requests.