By Stuart Rosebrook
Fifty years ago, the city of Prescott welcomed a Hollywood film crew and helped make a Western classic.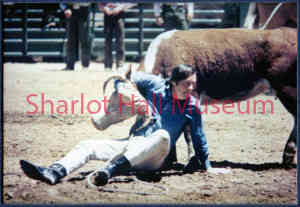 Over Labor Day weekend in September 1970, screenwriter Jeb Rosebrook received a call from his agent Mike Wise. "Robert Redford wants a rodeo story. Do you have one?" Wise asked. Little did the agent know that his North Hollywood-based writer had just written a first draft of "Bonner," a short story about an aging rodeo star whose career, family and hometown are all on the line. Wise also didn't know "Bonner" was a highly personal tale about my father's adopted hometown. Rosebrook had found his inspiration for "Bonner" after a short visit back to Prescott on July 4th for the 1970 World's Oldest Rodeo. Little did anyone know the short story would change the fate of so many, so quickly—especially our family.
My father, who first came to Prescott as a nine-year-old boarding student to attend fourth grade at the Orme School in 1945, had not been to Prescott since 1955, and the changes he witnessed while driving into the historic Yavapai County seat from Cordes Junction through Mayer, Humboldt, Dewey and Prescott Valley made a strong impression on him, especially the development of the wide-open spaces of the Fain Ranch.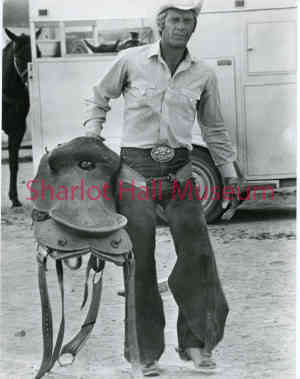 The "Bonner" story and the Junior Bonner screenplay that developed under the tutelage of producer Joe Wizan reflected my father's love of Prescott and Yavapai County, its history, culture and people. A novelist before turning to screenwriting, he imbued his screenplay with real locations.
When presented with the script in late 1970 and early 1971, both Steve McQueen and Sam Peckinpah signed on quickly to star and direct the film for Joe Wizan. There were many personal reasons they wanted to leave the confining nature of film production in Hollywood in the summer of 1971, but most importantly, they wanted to make the film on location in Arizona in the real-time of Prescott's Frontier Days Parade and the World's Oldest Rodeo.  
The film is a deeply personal homage to family, historic Prescott and the small towns and ranchlands of Yavapai County. One reason the film was successful—and remains a snapshot in time and history—was its location manager, William Pierce, the local Arizona Film Commission representative, president of the Fair Association and the Prescott Jaycees rodeo chairman. The local businessman was well connected, friend to all and not intimidated by Peckinpah or in awe of McQueen. Pierce actually drove the leading man around on his motorcycle to get to locations during the parade sequence. Pierce's local connections also helped secure a local track for McQueen and his son to race their dirt bikes.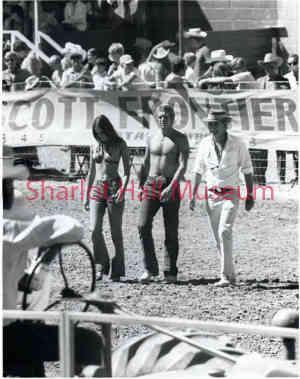 Pierce was successful in landing the production of Junior Bonner for Prescott and Yavapai County because he recognized the locales my dad wrote about in the script and was able to open doors to secure all the film's locations. Pierce's contribution to making the film a reality was so appreciated by the production company, the film ends with a heartfelt message of special thanks to the people of Prescott and Pierce. This heartfelt thanks we should continue to express, for without Bill Pierce and the generosity of spirit of the people of Prescott and Yavapai County, we would not be celebrating the 50th anniversary of the 1971 production and its subsequent release in 1972.
Ironically, Robert Redford didn't make a rodeo movie until The Electric Horseman in 1979, but in 1972 three other rodeo movies were released: Honkers, J.W. Coop and When the Legends Die. Junior Bonner was not the only rodeo picture of 1972, but it can be argued it is the greatest rodeo movie ever made in Arizona, about Arizona and Arizonans.
Stuart Rosebrook is the editor of True West magazine. A Prescott resident, he assisted his late father in publishing his memoir Junior Bonner: The Making of a Classic in the Summer of 1971 with Steve McQueen and Sam Peckinpah.
"Days Past" is a collaborative project of the Sharlot Hall Museum and the Prescott Corral of Westerners International (www.prescottcorral.org). This and other Days Past articles are also available at archives.sharlothallmuseum.org/articles/days-past-articles/1. The public is encouraged to submit proposed articles and inquiries to dayspast@sharlothallmuseum.org. Please contact SHM Research Center reference desk at 928-445-3122 Ext. 2, or via email at archivesrequest@sharlothallmuseum.org for information or assistance with photo requests.