By Jenny Pederson
Sharlot Mabridth Hall was a woman of many accomplishments, eventually becoming an historian, advocate and writer. Much of her inspiration came from the surrounding landscape and her experiences as a ranch woman. Born on the Kansas prairie in 1870, she and her family arrived in the Prescott area in 1882. After an attempt at cattle ranching, Sharlot's father James tried his hand at mining. However, by 1890, Sharlot's family permanently settled on a patch of ranch land in Lonesome Valley about 15 miles southeast of Prescott. That land was named Orchard Ranch, and it would remain Sharlot's home until 1927. An announcement dated August 6, 1890, in the Journal-Miner mentions that the completed Hall house "will be one of the finest and most substantial in that section of country."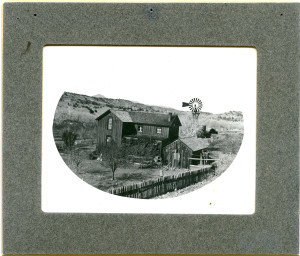 It was, in fact, a fine house made of unpainted pine. It was a well-built, two-story house and relatively large for the area and time. The structure was in the shape of a T, with two porches and the front door facing west toward Prescott. From Orchard Ranch's earliest days, the Hall family bred cattle for beef and milk, raised pigs and kept chickens. Horses were used for transportation as well as for work on the ranch. The family also planted a garden, and by 1895 they further diversified the ranch by planting fruit trees, including apples, pears and peaches. Around this time, a windmill was installed.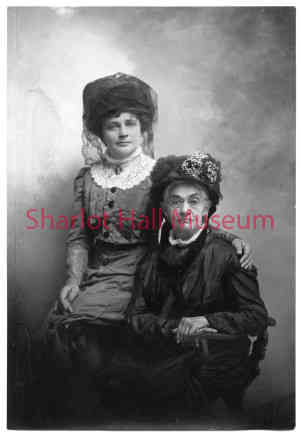 Work on the ranch happened year-round, changing with the seasons. There was work to be done inside the home and outside on the homestead. As Sharlot grew, she helped her mother wash clothes, cook meals, feed their animals and collect produce from the garden; her hands were always put to good use.
For families making a living on Arizona's frontier, challenges could arrive in the form of droughts as well as flash floods. The first summer after the Hall family's arrival, Central Arizona was blessed with plentiful rain and cattle prices were high. This bountiful summer was misleading; the next four years were extremely dry. Remarking on these hard years and the "dry water holes out of which we snaked the bogged cows at the end of a riata," Sharlot recalls the exhausted cattle, remembering "the pitiful lines of cattle that before sun-up weaved along the trail to what springs and wells were [left] – and drank and often fell beside the water boxes too weak to carry back the weight of the water they had drunk." When rain did eventually arrive, so much fell it flooded the area.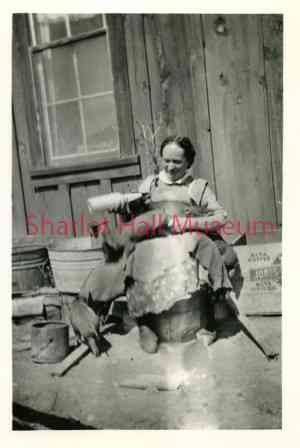 The potential for injury or illness was always present for ranching women as well as their loved ones. In March of 1891 Sharlot's father fell ill, spending three months in bed. During this time Sharlot's mother Adeline relished the opportunity to take charge. Along with her regular responsibilities inside the house, she divided the fields, purchased new seed, plotted the garden and went to work planting and cultivating. The results of her efforts were fruitful, resulting in seventy perfect squashes, among other quality products.
Pioneers in every sense, ranching women faced and overcame obstacles; pushed themselves to the limit physically, mentally and emotionally; and worked hard to support their families.
Join rancher Sally Bates on July 17th at 2 pm at the Fred Veil Education Center Auditorium to learn more about the ongoing legacy of ranching women, as contemporary women ranchers share their stories of the challenges, joys and rewards of ranching traditions and way of life.
To attend, please reserve a seat at (928) 445-3122 ext. 0. Admission is free (face coverings recommended).
"Days Past" is a collaborative project of the Sharlot Hall Museum and the Prescott Corral of Westerners International (www.prescottcorral.org). This and other Days Past articles are also available at archives.sharlothallmuseum.org/articles/days-past-articles/1. The public is encouraged to submit proposed articles and inquiries to dayspast@sharlothallmuseum.org. Please contact SHM Research Center reference desk at 928-445-3122 Ext. 2, or via email at archivesrequest@sharlothallmuseum.org for information or assistance with photo requests.