By Heidi Osselaer
Who would be crazy enough to hire a sports commentator who did not know the difference between a box score and a boxcar? Who thought the little cushions on the baseball diamond were there in case a player fell?  Lyle Abbott, the city editor of the Arizona Republican newspaper, that's who. And as it turned out, his hiring of Sally Jacobs, the paper's society editor, to be a sportswriter was a stroke of pure genius.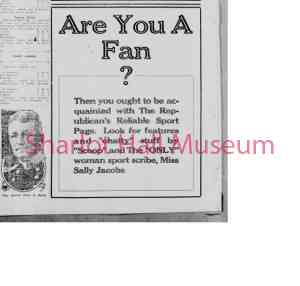 Sally Jacobs was an unlikely sports scribe. Her father, Marcus Jacobs, was a Jewish immigrant who freighted wheat to Fort Whipple and Fort McDowell and set up a general merchandise store in Prescott in the 1870s before moving to Phoenix where he became one of the town's more prosperous merchants. His third daughter, Sarah, (better known as Sally) was born in Phoenix in 1882 and grew up as a member of the city's socially prominent "smart set." After working as a press agent in 1912 for the Arizona Equal Suffrage Association, run by Prescott denizen Frances Willard Munds, she brought her passion for women's rights to her work on the women's pages of the Republican, where she often chided city officials who tried to prevent women from enjoying the newest dance craze or wearing the latest fashions. When her feminist humor became a hit with readers, her editor, Lyle Abbott, took notice.
Abbott, who would later move to Prescott to run the Weekly Journal-Miner, was a sports fanatic who worked with the Republican's publisher Dwight Heard to promote professional baseball in Arizona. The game was already well established as the national pastime, but in the desert Southwest, afternoon games in the summer were a tough sell. The region remained the only place in the country without a professional league. Abbott and Heard partnered with local businessmen to form a minor league division, the short-lived Rio Grande Association, with teams in Phoenix, Douglas, Tucson, Albuquerque, Las Cruces and El Paso. To boost attendance, they asked Sally Jacobs to cover the Phoenix Senators team from a woman's point of view.
During the 1910s, only a handful of women in the country had been given the opportunity to cover sports for newspapers because men assumed that women could not comprehend the intricacies of the game. Unlike other female sportswriters who had expertise, Jacobs admitted she knew nothing about sports, turning her naivety to her advantage by expressing shock when fans booed the players and becoming upset when the Senators went into extra innings rather than settling for a tie after the regulation nine innings. Her columns devoted more space to commenting on the players' looks than on the game's outcome, but the gags drew in readers, especially women.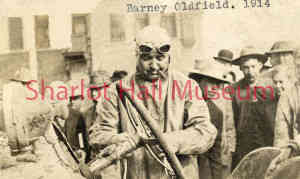 Before long she was offering uproarious articles on college football, boxing and race car driving, as well as baseball. She interviewed some of the nation's leading sport celebrities, like heavyweight champion Jess Willard and legendary auto racer Barney Oldfield, winner of the 1914 Cactus Derby; but she never bought into the cult of celebrity that shrouded famous athletes and was critical of the managers and male sportswriters who cultivated rampant hero worshipping.
Along the way, she assured her female readers that women really could understand sports and even participate. Jacobs was especially partial to auto racing, often riding with the top professional drivers when they came to town. After taking a dizzying spin at 80 miles an hour at the state fairgrounds with national champion Earl Cooper in his Stutz racer, Sally Jacobs concluded: "It was wonderful. . .. It was mad, wild, glorious!" The same could be said about her career as a sportswriter.
"Days Past" is a collaborative project of the Sharlot Hall Museum and the Prescott Corral of Westerners International (www.prescottcorral.org). This and other Days Past articles are also available at archives.sharlothallmuseum.org/articles/days-past-articles/1. The public is encouraged to submit proposed articles and inquiries to dayspast@sharlothallmuseum.org. Please contact SHM Research Center reference desk at 928-445-3122 Ext. 2, or via email at archivesrequest@sharlothallmuseum.org for information or assistance with photo requests.