By Marjory J. Sente
Summer of 1895 proved to be a watershed season for women living in Prescott. A leader in the women's movement came to town, provided them with inspiration, and they never looked back.
When Mrs. May Wright Sewall joined her husband Theodore in Phoenix in March 1895, she was front page news for the Arizona Republican. An article in its March 27 issue was titled "A Worker for Women" and detailed many of her accomplishments, including organizing the World's Congress of Women at the Columbian Exposition in Chicago.
Seeking relief for Theodore's tuberculosis, the couple soon moved to Prescott. The April 3, 1895 issue of the Arizona Weekly Journal Miner noted their arrival and reported "Mr. and Mrs. Sewall are head of a large classical school for young ladies in Indianapolis, and Mrs. Sewall is also a prominent contributor to the Ladies Home Journal."
It did not report that Sewall was a keen observer of people and places, an American reformer and a leader in numerous national and international women's organizations, including the General Federation of Women's Clubs (GFWC).
In the April 1932 Yavapai Magazine, Sharlot Hall recalled, "She [Mrs. Sewall] was a lovely lady indeed—lovely to look at and very delightful to listen to. She was a club woman – something not then familiar in Prescott – a club organizer and a very successful public speaker – and she was in Arizona for a rest and to see this little-known part of the southwest, being one of our first appreciative visitors."  
In Sewall's letter regarding Prescott published in GFWC's The New Cycle in 1895 and reprinted in the April 1932 Yavapai Magazine, she observed: "Many of the women here – women from the East, from the North, from the South (for hardly do you meet an adult native of the place) – bear . . . themselves with a fearless ease, an ease quite foreign in the localities whence these came. They are not bold but fearless. They are self – possessed. They have the courage of their opinions; and – blessed and most rare courage – they have the courage of their ignorance as well."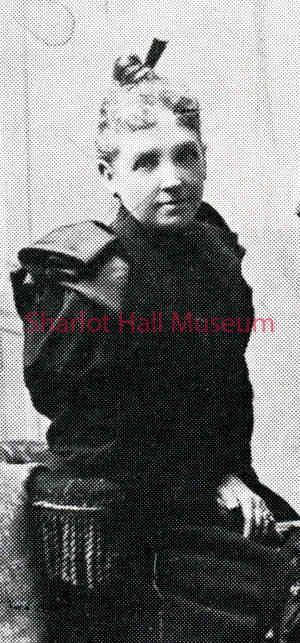 News of Sewall's presence in Prescott spread, and soon a group of women asked for her help organizing a women's club. A meeting was arranged for August 10 at the Knights of Pythias Hall where she spoke on "Women's Clubs of the World." Enthusiastic local women set another meeting for August 13. At that meeting Sewall lectured on Margaret Fuller, an early women's rights activist and member of the Transcendental Club founded by Ralph Waldo Emerson and Frederic Henry Hedge. By the end of the meeting eighteen local women decided to organize a women's club.
Within a week, on August 19, they met to draft a constitution and organize the Women's Club of Prescott. A year later the name was changed to the Monday Club. Sharlot Hall noted, "The first president of the Monday Club was a woman whose personal charm and appearance was quite like that of Mrs. Sewall herself. Mrs. F. A. (Jane (Jennie) Catherine Hereford) Tritle had come to Prescott as the wife of Governor F. A. Tritle, and both as First Lady of Arizona and as a member of the social life of Prescott she had won general admiration and affection."
Hall also stated that Sewall, with her inspirational message about woman's club work, was to become the fairy godmother of woman's clubs in Arizona.
In late August the Sewalls returned home to Indiana where Theodore passed away in December. However, May Wright Sewall continued her work for international peace, women's rights and educational reform until her death in 1920.
"Days Past" is a collaborative project of the Sharlot Hall Museum and the Prescott Corral of Westerners International www.prescottcorral.org. This and other Days Past articles are also available at archives.sharlothallmuseum.org/articles/days-past-articles/1. The public is encouraged to submit proposed articles and inquiries to dayspast@sharlothallmuseum.org. Please contact SHM Research Center reference desk at 928-445-3122 Ext. 2, or via email at archivesrequest@sharlothallmuseum.org for information or assistance with photo requests.