By Bob Harner
Despite considerable effort, John Jay Gosper experienced only thwarted ambition in his campaign to become Arizona Territorial Governor.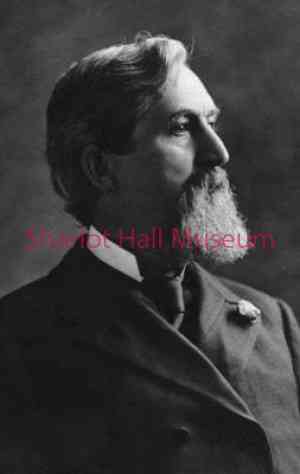 After losing his left leg in the Civil War, Gosper married a widow with a twelve-year-old son, earned a degree at Eastman Business College and tried farming and raising hogs. He first entered politics in Lincoln, Nebraska, as a member and later president of the city council. Continuing his political rise, he served as Nebraska's secretary of state from 1873 to 1875.
Gosper visited the Arizona Territory in 1876 and was apparently sufficiently impressed by what he found that when the territorial secretary position became vacant in 1877, he applied and was appointed to the post by President Rutherford B. Hayes. His tenure in office began awkwardly when he arrived in Tucson only to learn the territorial legislature had recently moved the capital back to Prescott.
The job of territorial secretary included acting as governor when the appointed governor was absent; Gosper's first opportunity came when Governor John Hoyt resigned, and President Hayes appointed John C. Frémont to replace him. During the five months before Frémont's arrival, Gosper was in charge.
Like most Arizonans, Gosper was initially impressed that the famous "Pathfinder" was the new governor. Lily (Frémont's unmarried adult daughter who lived with the family) noted in her diary that Gosper was instrumental in securing temporary lodgings for the family upon their arrival. Gosper's attitude changed quickly, however, when Frémont seemed more interested in personal business than in governing. His frequent absences allowed Gosper to repeatedly experience the authority and prestige of a governor's position.
Not that Gosper was devoted exclusively to government duties. While in office, he sold windmills (the first to be brought into Arizona), drilled wells, worked as a director for banks and insurance companies, raised registered horses and maintained a cattle herd on a ranch on the Upper Verde River, bought and sold mines and mills, owned a stable and livery and acquired the mail delivery contract between Brigham City (near modern-day Winslow) and Prescott. Notably, he partnered with Charles E. McClintock (a former clerk for the territorial secretary) to start the first Phoenix newspaper, the Salt River Herald (later Phoenix Herald) in 1878, providing a channel for Gosper's relentless self-promotion.
For example, an item from the Arizona Citizen (a Tucson newspaper) reprinted in the July 5, 1879 Phoenix Herald stated, "Secretary and Acting Governor Gosper is a useful man for the Territory …. May he abundantly prosper." The Herald's August 6, 1879 edition reported, "Much credit, we confess, is due our untiring and energetic Secretary, Gov. Gosper, for the inauguration of the Golden Era Mining Company …. Meritorious and good motives should always receive the endorsement of the public…." Articles published on July 23 and August 22, 1879 eliminated any reference to his secretary title and simply referred to him as Governor Gosper. Unfortunately for Gosper, his reputation was somewhat tarnished when he received one of several controversial divorce decrees granted by the 1879 Territorial Legislature.
Although he spent considerable time at his Verde ranch or in Phoenix dealing with his newspaper, Gosper also maintained rented living quarters in Prescott where the territory's government business was conducted. The 1880 census indicates that Gosper was one of three men residing in a house on Montezuma Street. The other two residents were the owner, Richard E. Elliott, and a gentleman by the name of John Henry Holliday (better known as Doc Holliday) who would soon depart for Tombstone. The census lists Gosper as a 39-year-old divorced miner and stock raiser, with no mention of his government position.
Part 2 – Gosper promotes himself as a permanent replacement for Frémont.
Days Past" is a collaborative project of the Sharlot Hall Museum and the Prescott Corral of Westerners International (www.prescottcorral.org). This and other Days Past articles are also available at archives.sharlothallmuseum.org/articles/days-past-articles/1. The public is encouraged to submit proposed articles and inquiries to dayspast@sharlothallmuseum.org. Please contact SHM Research Center reference desk at 928-445-3122 Ext. 2, or via email at archivesrequest@sharlothallmuseum.org for information or assistance with photo requests.