By Dave Lewis
Traditionally, the Hopi crafted necklaces, bracelets and other personal adornments from shell, stone and plant materials. Silver – scarce and expensive – was a late arrival on the Hopi mesas. In the 1890s a few Hopi artisans were taught to work with silver by their Navajo and Zuni neighbors. Early pieces were indistinguishable from Navajo or Zuni work.
As Southwest tourism increased after 1900, native craftspeople began creating items to sell. However, Hopi silversmiths had several disadvantages. They lived in remote areas; nothing about Hopi silverwork made a tourist seek it out over Navajo or Zuni work; the work quality wasn't ideal; and cheap, imitation Indian jewelry flooded the markets.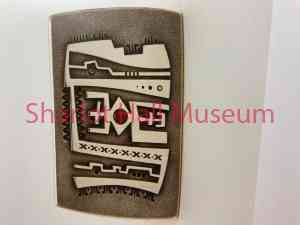 Much changed beginning in 1926 with the arrival in Flagstaff of artist Mary-Russell Ferrell Colton and her educator husband Dr. Harold Colton. In 1928 they were among the founders of the Museum of Northern Arizona.
The Coltons took a keen interest in Hopi culture, art and craft. They encouraged talented artists and collected baskets, pottery and carvings. In 1930 the museum sponsored the first Hopi Craftsman Exhibit – the first Indian market in Arizona.
In 1935, with input from the Coltons and others committed to protecting and sustaining native crafts, the Indian Arts and Crafts Act was passed, creating the Indian Arts and Crafts Board (IACB) to work with native artists and establishing criminal penalties for misrepresentation of non-native products as Indian-made. (The Act was revised and strengthened in 1990, in response to a proliferation of fake "Indians" and fake "Indian" arts.)
By 1938 the Coltons turned their attention to Hopi silverwork. In a letter to the IACB, Mary-Russell wrote: " . . . There is only one way to make Hopi silversmithing worthwhile . . . They must produce Hopi silver, not Navajo, Pueblo or Zuni. It must be absolutely unique . . ." Mrs. Colton stressed that Hopi work must be based on traditional, uniquely-Hopi designs from pottery, basketry, carvings and weavings. She gathered suitable designs and cultivated a group of Hopi silversmiths to help improve the design, quality and uniqueness in their work, urging each artist to create a unique maker's mark to identify their creations.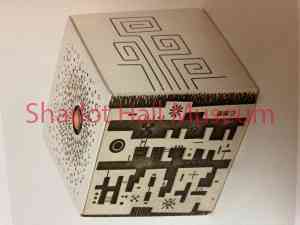 Annual Hopi markets were held until World War II (many Hopi men served in the war – some as Code Talkers). After the war, an official of the IACB met with Hopi artist Fred Kabotie and silversmith Paul Saufkie to create an 18-month Veterans Silversmithing Program under the GI Bill. "In February of 1947, Kabotie and Saufkie began teaching classes with the mindset of making a true statement with Hopi jewelry. Kabotie . . . would teach design, and Saufkie would teach silverworking techniques. . ." (Arthur Erickson, "Old Native Arts & Unusual Antiques.")
Fifteen silversmiths in that first class graduated in 1949. This program produced Mrs. Colton's "absolutely unique" Hopi silverwork. The designs proved popular, with most pieces connecting to Hopi heritage and traditional symbolism. A new technique was developed – Hopi overlay.
The technique involves cutting a base layer from a sheet of silver, and then cutting an intricate design into a separate sheet of silver which is highly polished and soldered on top of the base layer. The artist might work some texture into the visible part of the base layer or oxidize it to darken it. The result is a striking design with a three-dimensional look. This work was first shown at the Hopi Craftsman Exhibit in 1949.
To learn more about Hopi silversmithing, see "The History and Hallmarks of Hopi Silversmithing" by Margaret Wright or visit the Prescott Indian Art Market, September 18-19, 2021 at the Sharlot Hall Museum, which will feature several outstanding Hopi silversmiths and Fred Kabotie's grandson Ed, an artist and performer.
Facial coverings will be required.
"Days Past" is a collaborative project of the Sharlot Hall Museum and the Prescott Corral of Westerners International (www.prescottcorral.org). This and other Days Past articles are also available at archives.sharlothallmuseum.org/articles/days-past-articles/1. The public is encouraged to submit proposed articles and inquiries to dayspast@sharlothallmuseum.org. Please contact SHM Research Center reference desk at 928-445-3122 Ext. 2, or via email at archivesrequest@sharlothallmuseum.org for information or assistance with photo requests.