By Dan Bergan
With a wisp of imagination, he is there. His paint palette laid out on the work table, paint brushes standing upright in a jar, cowboy hat atilt on his head, smiling slightly as he fingers a small clay model of a steer, George Phippen has come home to the rough-hewn studio he built himself, home to the museum that bears his name and legacy.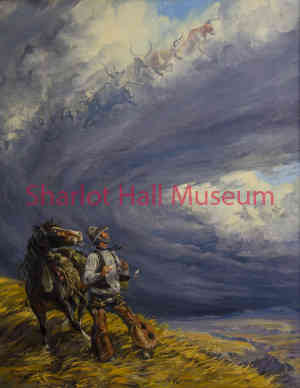 That studio now stands on the grounds of the Phippen Museum, recently reclaimed and moved near the entrance as tribute to the man famed as the most talented cowboy artist of his generation and founder of The Cowboy Artists of America.
George Phippen moved to Prescott in 1950 near the end of a ten-year odyssey across the Southwest trying to "break into the art field." George was born in Iowa in 1915; but a family move to Kansas at age four gave him contact with cowhands from the Old Chisholm Trail, sparking his interest in "all things Western." Soon any spare moment the young boy had was "spent with a handful of clay, sketch pad and anything that would take a pencil." Oven space became scarce as baked goods had to compete with drying clay figures of cowboys, horses and cattle crafted from the clay of the nearby McCay River.
George's formal education ended, much to his later regret, in the eighth grade, when the onset of the Great Depression forced him to work at nearby farms and ranches. In 1933 at age eighteen, George enlisted in the Civilian Conservation Corps, opting for assignment in Walla Walla, Washington—the "West" of his imagination. There he met Louise Goble, whom he would marry shortly after his discharge in 1939 and with whom he would rear four sons and a daughter.
Plans to showcase his growing art portfolio were sidetracked by a WWII induction notice, with George and Louise stationed at Fort Worden near Puget Sound throughout the war years.
Post-war years were spent, now with two young sons in tow, chasing George's career dreams from Taos to Tucson to Santa Fe to Phoenix, living mostly out of a 13-foot travel trailer pulled by their '31 Chevy. George took some formal oil painting lessons from professional artist Henry Balink of Sante Fe and began to showcase his own work in galleries in Houston and Taos.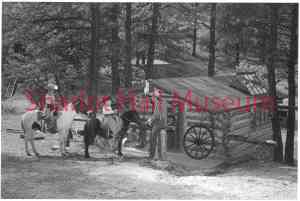 His obvious talent gained recognition with contracts to produce greeting cards for Babcock and Borough's Western Stationery and some major calendar art for Brown and Bigelow Calendars.
An offer of a caretaker job at the Prescott First Church of God campground in the fall of 1950 lured George and family out of the Valley heat to set up his studio in an old missionary cottage on the grounds. There, with help from a friend and the availability of forest service timber, George set to work building a studio more to his liking.
He learned to cut and notch logs, to always face those logs downward, and to nail support boards around any openings. Soon a one-window nine-foot-tall cabin/studio about fourteen by seventeen feet (with a skylight) took shape. The whole family helped nail in metal screening and cement the gaps between logs.
Next week, the later years.
"Days Past" is a collaborative project of the Sharlot Hall Museum and the Prescott Corral of Westerners International (www.prescottcorral.org). This and other Days Past articles are also available at archives.sharlothallmuseum.org/articles/days-past-articles/1. The public is encouraged to submit proposed articles and inquiries to dayspast@sharlothallmuseum.org. Please contact SHM Research Center reference desk at 928-445-3122 Ext. 2, or via email at archivesrequest@sharlothallmuseum.org for information or assistance with photo requests.