By Marjory J. Sente
By 1902, with $250,000 of capital from the sale of stock, B-B Co. was considered the largest mercantile in the Arizona Territory. Reasons for growth included the local economy, railroads and an inexpensive means of communication. The B-B Co. boasted it had customers throughout the entire Rocky Mountains, Southwest and Arizona Territory.
Yavapai County was mineral rich. The ad on the back of a J.S. Acker & Co. letter indicated that in 1905, $9 million of gold, silver and other minerals were mined in the county, which was referred to as "the treasure vault of the Southwest."
Railroads connected Prescott to the rest of the Territory and beyond. The Santa Fe line from Los Angeles to Albuquerque went through Ash Fork. From Ash Fork, the Santa Fe, Prescott and Phoenix railroads ran to Prescott and on to Phoenix. The Prescott and Eastern was a railway linking Prescott to Crown King (Mayer) and mining towns in between.
The penny postal card, the equivalent of today's email, allowed people to send messages inexpensively. Also, the telephone had come to Prescott and Yavapai County. An Arizona State Phone Company charge slip recorded a long distance call from Walker to the store that was paid for by the B-B Co., an example of the company paying the reverse phone charges for a call from a customer.
Mail and rail worked together to facilitate requests to B-B Co. and the delivery of merchandise. A postal card written in October 1904 by W.H. Robinson in Iron Springs requested $1 worth of apples to be sent that day. How did this work? Iron Springs was on the rail line between Phoenix and Prescott. The card was mailed on the train going north to Prescott, and the apples were delivered on the return train going south to Phoenix later in the day.
A large part of the company's business was wholesale. For instance, a postal card was posted in 1903 in Martinez from the Martinez Mercantile by O.L. Geer requesting 500 paper napkins. Oliver Geer and his wife ran the Martinez Hotel and were ordering supplies for the business. Geer was also the postmaster from 1900 until the post office was discontinued in 1906.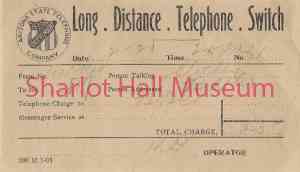 The Junction Hotel in Junction was a customer too. The request on one postal card was for a barrel of cider. Another was a complaint about a frozen box of celery.
School teachers were also customers. A postal card from Turkey from Elisa Fleck, the schoolteacher, asked for prices on watercolors and on the Kindergarten Indelible Drawing Crayons in the 14 primary colors.

Ash Fork resident C.F. Fox ordered wallpaper, but only received a partial order. Fox sent a postal card stating: "I sent order yesterday for wallpaper for room 12 X 12 with 10 ft. ceiling. You sent no ceiling paper or border which of course I wanted and (thought) that you would understand. Paper was received. Please send at once."
Miners and mining companies also depended on the B-B Co. for their supplies. For instance, a placer miner sent a request for 6 placer mine location notices, while the Nassau Mining Company located near Groom Creek sent an order for a case of pink salmon to feed its crew.
For years, B-B Co. was the "go-to" store in Arizona, but with growing competition in Prescott and around the state, it closed its doors in the early 1940s. By 1948 J.C. Penney and F.W. Woolworth had moved into the space. Today, it is home to Bashford Courts and the Old Capitol Market.

Days Past" is a collaborative project of the Sharlot Hall Museum and the Prescott Corral of Westerners International (www.prescottcorral.org). This and other Days Past articles are also available at archives.sharlothallmuseum.org/articles/days-past-articles/1. The public is encouraged to submit proposed articles and inquiries to dayspast@sharlothallmuseum.org. Please contact SHM Research Center reference desk at 928-445-3122 Ext. 2, or via email at archivesrequest@sharlothallmuseum.org for information or assistance with photo requests.