By Marjory J. Sente
The Bashford-Burmister Co., or B-B Co., had a long history in Prescott before becoming the largest mercantile in the Arizona Territory. Carrying supplies from barbed wire and canned salmon to ready-made clothes, it met the needs of people on the frontier.  
In 1863 Lincoln appointed Levi Bashford as Surveyor General of the Arizona Territory. In January 1864, he and his brother Coles, who had been appointed Territorial Attorney-General, arrived in Governor Goodwin's party. Soon Levi set up the first store, described as a small trading hut, in response to the needs of miners and the Goodwin party. Miners used gold dust to buy a limited variety of food and supplies.

By September 17, 1867, Levi had the "New Store" on the north side of the plaza. An advertisement in the June 6, 1868 Arizona Miner offered basic foodstuffs, pistols, powder, powder flasks and shot as well as a variety of tobaccos and cigars.  

Bashford's new store became the "New York Cheap Store" on March 20, 1869. The April 24, 1869 The Weekly Arizona Miner advertised he was buying goods directly from New York, saving the tariff levied by San Francisco merchants.

By 1874 William C. Bashford (nephew of Levi) and nephew-in-law Robert H. Burmister moved to Prescott and became partners with Levi in the store. Its name was changed to L. Bashford & Company. A corner card for L. Bashford & Company on a three-cent stamped envelope with a May 28, 1882 Prescott postmark was addressed to an agent for Butterick's patterns, as the store was also meeting the sewing needs of the community's women.

Expanded to three stories in 1876, the store became the largest in the Arizona Territory. Five warehouses and a lumber yard allowed the business to carry a large, diverse inventory and purchase large lots of merchandise.
After an eight year partnership, Levi retired from the business in 1886 and it became W.C. Bashford and Company. In 1888 the name of the store changed again to Bashford-Burmister Co.

According to Levi's obituary, "He was the founder of the mercantile establishment which is now known as Bashford-Burmister Company. He started the business in an unpretentious manner on the east side of the plaza, afterwards moving to Montezuma street and thence to the present location of the above company in the two-story brick building erected by him."

The next decade brought more changes. In 1892 the store was incorporated as The Bashford-Burmister Company and raised $150,000 in stock sales. The two owners were now stockholders along with other investors. R.H. Burmister became corporation president; Frank M. Murphy, V.P.; and W.C. Bashford, secretary and treasurer. By 1895 business volume reached $347,200 or $10.6 million in 2020 dollars. That same year W.C retired from store management to devote time to mining interests, remaining a director of the corporation.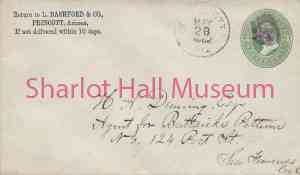 On December 26, 1899 R. H. Burmister abruptly resigned, stating he couldn't live on $300 a month (an annual salary of about $102,000 in 2020 dollars). In an emergency meeting, the corporation's officers named R.N. Fredericks (a long-time Prescott resident, businessman and B-B Co. stockholder) president and D.M.F. Weeks as general manager.

By mid-January 1900, R. H. Burmister & Sons Co. was up and running, selling groceries, hay, grain and mining supplies in direct competition with the B-B Co. In July both businesses were leveled by the Great Fire. Both would rebuild, with B-B Co. doing so on a grand scale.

In February 1900, the B-B Co. stockholders met and elected Fredericks president; Weeks first VP and general manager; F.M. Murphy, second VP; H.D. Aitken, secretary-treasurer; and G.A. Bray, co-director.

Little did these men know their leadership would be needed to take the B-B Co. from the ashes of the Great Fire to one of the largest and finest emporiums in the Arizona Territory.

Days Past" is a collaborative project of the Sharlot Hall Museum and the Prescott Corral of Westerners International (www.prescottcorral.org). This and other Days Past articles are also available at archives.sharlothallmuseum.org/articles/days-past-articles/1. The public is encouraged to submit proposed articles and inquiries to dayspast@sharlothallmuseum.org. Please contact SHM Research Center reference desk at 928-445-3122 Ext. 2, or via email at archivesrequest@sharlothallmuseum.org for information or assistance with photo requests.